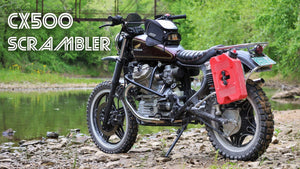 CX500 Scrambler build finished and featured!
The latest and greatest Honda CX500 Scrambler build is complete! Overall I am extremely happy with this bike and how it turned out. This thing is so much fun on and off road and I am excited to see some pictures of it in action from its owner!
Bike Exif did a full feature of this machine so definitely go check it out here for the full 411 on the bike!
On top of the feature I have the full timelapse video posted as well so be sure to check that out to see the whole thing come together.
---